Handmade art created for your well being. Made with organic & recycled

fabrics. Hand-painted textiles using botanical dyes & earth pigments. Proceeds fund our creative community programs.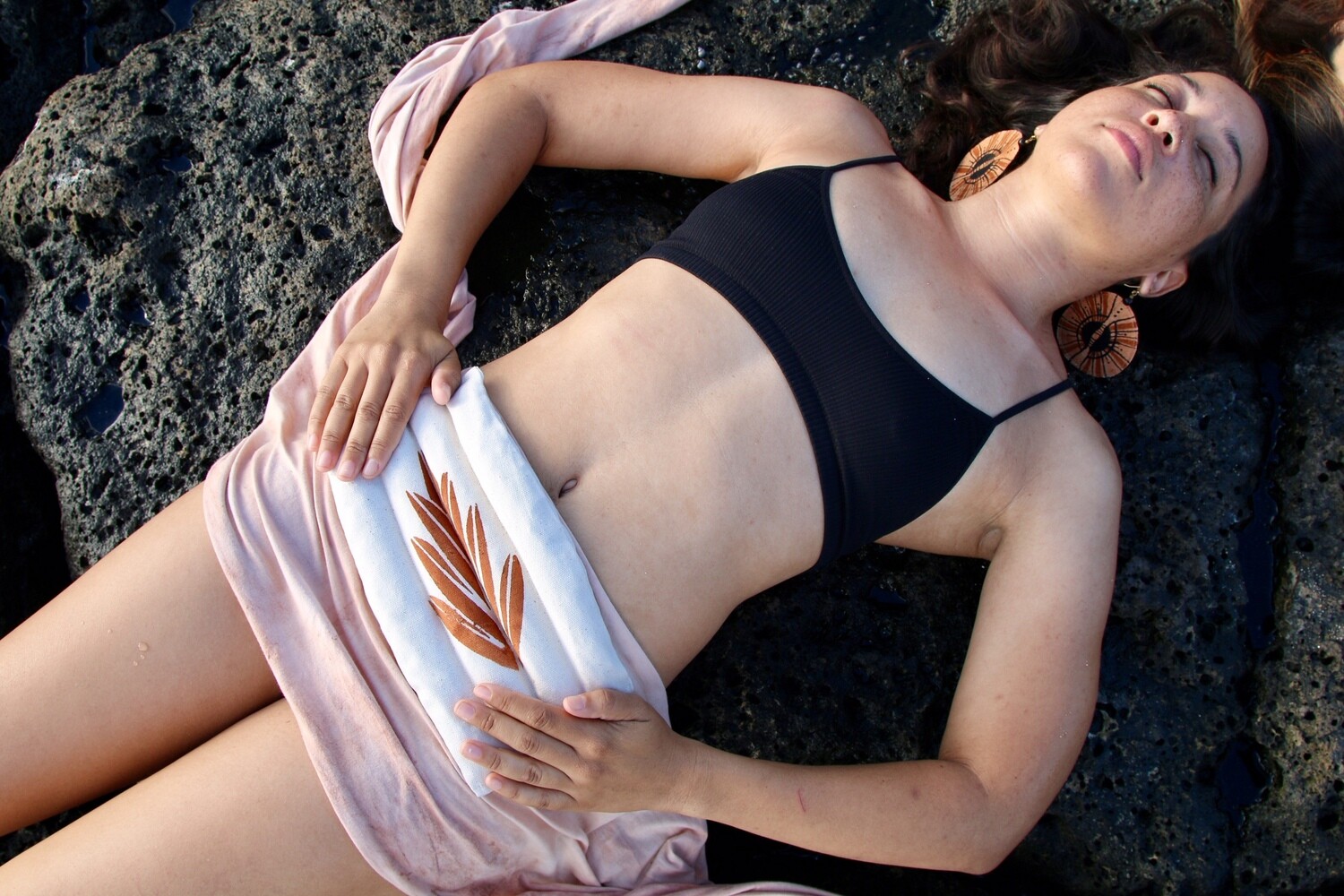 Crystal Womb Therapy Kit - Red Clay
SKU 00033
Product Details
BENEFITS:
Created to bring therapeutic support to womxn in all of their cycles. Our Crystal Therapy Heating Pads are especially designed to bring soothing relief to any areas of pain, and for deep womb circulation and connection. This can include menstrual, postpartum, menopausal, joint and muscular pain by increasing circulation to the area. Pain relief is achieved with the crystal's penetrating far-infrared heat, creating more flexibility while assisting in the removal of cellular toxins. This kit includes an Eco-Art Therapy activity especially created for womb support.
Our skin is the most absorbing organ of our bodies, where other heating pads use synthetic fibers that emit chemicals. Our therapy pads are made with 100% organic undyed cotton fabrics to ensure your utmost comfort and health. Printed with 100% natural Earth pigments and cured with the sun. There is no other product like this on the market!
INCLUDES: (Full kit as in 2nd picture)
Crystal Pad - 100% Organic Cotton (undyed) - Heavyweight Duck Cloth - approx (6" x 12"). Each pad contains approximately 2 pounds of crystals. Filled with a blend of Moonstone, Amethyst, Rose Quartz, & Citrine
Cover - 100% Organic Cotton dyed with Hawaiian Red Clay- Heavyweight Flannel - approx (6" x 12")
Skirt Wrap - 55% organic cotton 45% Bamboo dyed with Hawaiian Red Clay (ʻAlae) - approx (10" x 100")
Carrier Case- Mix of Recycled Fabrics- mostly in beautiful batik fabrics. Prints & Colors vary - approx (8" x 20")
Detailed Directions- for heating and use
Womb Ritual - Visualization, art and journaling
* Handmade in Hawai'i. Design and Artwork by Sierra Dew. Sewn by the Seams Wonderful non-profit womenʻs sewing program at Kokua Kalihi Valley Comprehensive Health Services. This program provides a space for local pacific-islander women to gather and learn sewing skills in their style of dress and within their own community.
HOW TO USE:
Heat the therapy pad as desired, and apply to the area where the pain resides. Can be heated with a microwave, oven, or an electric heating mat. (Includes detailed directions for use). Add essential oils for enhanced therapeutic benefits.
Womb Wrap: Heat with desired method. Apply castor oil to effected area and essential oils for circulation, digestion, hormone balancing, tissue healing etc. After heating, place pad directly onto skin or into the flannel cover and place on womb area. Use the skirt wrap for deeper warmth and to hold in place while you lie down or move around.
CLEANSING AND RECHARGING PROCESS:
When creating your therapy pad, we cleanse the crystals by soaking them in a bath of pink himalayan salt, known for itʻs many healing benefits. Afterwards, we recharge the crystals, under the moonlight, in combination with flower essence remedies.
ART REMEDY DESIGN:
Each therapy pad is hand-printed with an "Art Remedy" design, with the intention to bring healing and wellness to the user. Many studies (including scientific ones) have found art can have a positive effect on a person's autonomic nervous system, their hormonal balance and their brain neurotransmitters.
BACKGROUND:
"After the birth of my son I was dealing with some intense recovery issues in my womb. I needed to heal scar tissue, rebuild new tissue, strengthen muscles, and re-balance my hormones. I was told not to carry my son and that it was possible I may need a hysterectomy. I felt really overwhelmed. A few of the treatment people I saw suggested using far-infrared heat therapy to bring circulation and deep tissue penetration. I searched and searched for something that didnʻt use harsh chemical fibers, but couldnʻt find anything. An idea sparked of making a comforting Art Remedy design that assisted in womb-healing. Something for women moving through their cycles and rythms at any age, whether it's menstruation, menopause, pospartum, or your saturn return. I envisioned something powerful and sparkly, and the Crystal Womb Therapy kit came as my creative solution for healing support."
-Sierra Dew
For more information email aloha@wisdomcircles.org
Custom Orders
For custom Art Remedy designs email aloha@wisdomcircles.org
Save this product for later